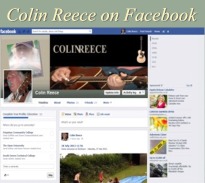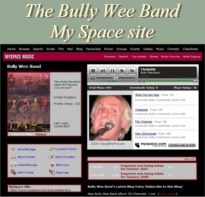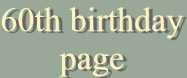 On 28th September 2007 Colin hit the magical milestone of three score years and none. There were two celebrations = The first at The Hole In The Wall pub in Torquay, Devon on the 27th September and the second at The Barge in Gillingham, Kent on the 29th. The Hole In The Wall night was shared with Colin's good friend and landlord of said Hole In The Wall Dave Jones who, being born just two days before Colin on 26th September 1947, was also celebrating his forty twentieth birthday.
The Barge on the 29th saw a reuniting of so many friends from Colin's past 34 years since he moved to the Medway Towns in 1976. Some, like Colin, had since moved on and away, and although Colin had managed to keep in touch one way or another, many of them hadn't seen each other in some 20 or 25 years.
Colin would like to take this opportunity to thank all who came for coming. Thanks for the prezzies and cards. How did so many people know he wanted to open a chain of off-licences? And for those who didn't make it to the 60th, make sure you don't miss the 7oth. Colin promises to try and make it himself.
The Hole In The Wall - Thursday, 27th September 2007
The Barge - Saturday, 29th September 2007
The Hole In The Wall - Thursday, 27th September 2007
The Birthday Boys
Colin with fellow birthday celebratee Dave Jones.
The Band
Well some of the band. From the left "Ol' Tex" Tucker, Colin and Smudger. Out of shot is Drew Millin (who sings a bit) and Nigel Pike (who plays bass quite a lot).
Others who performed during the night were Lee Carter (who also sings a bit), Dean Winters (who is funny and sings a bit), surprise guest Steve Laister and of course, with his unforgettable rendition of 'Bye Bye Blackbird', the other birthday boy Mr Dave Jones (who isn't a Monkee).
The Myers Family
From the left Sam (who plays piano a bit), Steve (who drinks quite a lot of Colin's beer at Christmas) and Nettie (who just drinks quite a lot).
Two very elegant ladies
Kate and Phillipa in the pub's smoking area cos they both smoke a bit.
Two more very elegant ladies
Sue and Carol taking a break from what they do best. "Rabbit rabbit rabbit rabbit, yak yak bunny bunny etc etc.............."
Old bloke and young bird
While Sue was having her picture taken it seems hubby Nathan was up to no good with young Sam!!
A pissed antique dealer
While Carol was having her picture taken it seems hubby Viv was getting crucified.
Well apparently he did when he got home!!
Behind you!!!
Dennis and Monica with a very young Colin peeking over their shoulders.
The maitre d
The one, the only Derek. Without whom etc etc........
Big big thanks and kisses go to this man.
Three old pub singers.
From the left Drew Millin, Lee Carter and Colin.
Take a glance at the clock and you'll see evidence of the lateness of the hour. Twenty to two in the morning. Not bad at our age.
The Barge - Saturday, 29th September 2007
The band for the first session
From the left (as if he needed an introduction) Mr Ian Cutler on fiddle, Colin's tour buddy from the Jim Davidson & Dusty Springfield tribute days Paul Townsend on bass, the one - the only Mr Steve Shorey on guitar and Colin. Out of shot is our very own squeezable Ron Horsfield on squeezy type melodeon.

Thanks to Sue Holton for the pic

The band for the second session
Paul had to leave before the second set started, but he was very ably replaced by Mick Hennessy who some may remember from the good old days of Roaring Jelly. As we can see from this pic, Mick spent a lot of time wondering what key we were in

Thanks to Sue Holton for the pic

Colin, it would appear, at 180 years old.
It's inevitable on these occasions that some cards will be duplicated, as will the badges.

Thanks to Sue Holton for the pic

Paul Townsend
Paul's prowess on the bass is legendary, but what is more important is that he knows a good birthday present to buy a mate when he sees it. On his arrival at the Barge he presented Colin with two bags containing various quantities of black jacks, fruit salads, pineapple chunks, sweet tobacco (for which Colin had to go to the smoking room to eat), cherry lips, rhubarb & custard drops (yuuuummmmie), FLYING F*~#ING SAUCERS and........... wait for it........... a SHERBET FOUNTAIN. He left the fart machine at home, but that's another story.

Thanks to Sue Holton for the pic

Mick Hennessy
The other bass player for the night. Mick used to jam with Colin and Steve twenty odd years ago at their well documented 'rock' sessions during various Broadstairs Folk Weeks. His comment after being invited to play bass on the birthday night was "I'd love to, but I'd better warn you, the last time I played bass was with you guys twenty odd years ago in Broadstairs." Like riding a bike mate.
Mick's version of 'Valerie Wilkins' recorded way back when with Roaring Jelly is still one of the most requested tracks on Mike Harding's Radio Two show.

Thanks to Sue Holton for the pic

Ron Horsfield
Dear Ron was one of the first people Colin met when he first moved to Medway back in 1975. He appeared on the first album Colin ever recorded, and they've been in various bands together since, including the Jezreels Ceilidh Band and the Wish It Was A Band Band. Colin likes to have him around, not only for his superb melodeon playing, but because we think he's actually older. Although no-one really knows for sure.

Thanks to Sue Holton for the pic

Steve Shorey
The Man as far as Colin's concerned. From 1984 until around1989 Steve and Colin reigned supreme every Wednesday in The Royal Victoria And Bull Hotel in Rochester as well as the already mentioned 'rock' sessions at various Broadstairs Folk Weeks. His playing on Sultans Of Swing and Cocaine on the night surpassed even 'the old days' and can be seen and heard on you tube by clicking here and here.

Thanks to Sue Holton for the pic

Ian Cutler
What more can be said that hasn't already been said on dozens of pages of this website. No matter how many pints, brandies or whatevers get downed he still holds it together. The eyes look a little droopy in this pic however.
Age being the subject of the night though, we did manage to publicly clear up one mystery. People keep wondering why Ian always looks so much younger than the other players with whom he shares the stage. It's cos usually - he is!!! Not bad for 75 though is he.

Thanks to Sue Holton for the pic

Shorey, Henessey & Reece
Being very harmonious

Thanks to Sue Holton for the pic

Then look who turned up. Doug Hudson that's all.
It was at first thought that, through work commitments, Dougie wouldn't be able to get to the party. Then around half past midnight in he strolled and I think the smiles say it all.

Thanks to Sue Holton for the pic

Fel-a-tio
Of course Colin and Doug had many requests to sing their greatest hit and ended up performing Fel-a-tio together.

Thanks to Sue Holton for the pic

Bob Terry and Andy Green
Two very important people in Colin's life. Bob's favourite phrase in life is 'You're 'aving a larf ain't ya.' Andy's favourite pastime in life is actually 'aving a larf.

Thanks to Steve Shorey for the pic

Bill Vincent & daughter Friday
Two more very important people in Colin's life. The influence Bill and his then wife Jo had on Colin's introduction to the world of Folk Music is well documented on some of the other pages of this site. Bill is now a full time joss dickey and claims to be the oldest of his kind on the rave/trance(?) circuit. To see another picture of Bill and Friday together click here.

Thanks to Jenny Dann for the pic

Judy
Judy left Medway over twenty years ago to settle in Scotland and travelled all that way just to be at the party.

Thanks to Jenny Dann for the pic

George, Alison, SJ and Wen...
60 he may be, but the audience is still as pretty as it ever was.

Thanks to Sue Holton for the pic

Colin & Debs
Colin kept on getting bought large brandies during the course of the evening, but mingling duties meant he kept leaving them lying around. Debs retrieved them!! Here she is trying to decide which cake Colin should cut.......
Cutting the cake
There was actually only one all along.

Thanks to Steve Shorey for these two pic
Most of the above photos come from either the cameras of Debs, Sue Holton or Steve & Jane Shorey. There are many more to come and they'll be entered on this page as and when they arrive.
To see more from Sue's and Steve's collection just follow their links below. There are also a couple of you tube clips taken on Richard Thorburn's mobile phone.
The official photographer for the Barge was our good friend Chewy. He took so many pictures on the night that a special page has been set up. To see Chewy's pics click below.
Blimey!! they just keep coming in. There's also a page for Mick Hennessy's pics as well now.
Chewy's collection
Mick Hennessy's collection
Sue Holton's collection
Steve Shorey's collection
A couple of pics by Paul Townsend
The Barge's own website gallery
You Tube Sultans Of Swing
You Tube Cocaine